Hey gorgeous! Are you sick and tired of feeling like you can't find clothes that flatter your figure? Well, I'm here to tell you that now is the perfect time to love your shape and dress in a way that makes you feel stunning and confident. 
Dressing as a plus-size woman can be challenging, but it doesn't have to be. The trick is to embrace your body and shop for outfits that highlight your best features. Knowing your body type—an hourglass, rectangle, pear, or apple—can help you choose clothing that highlights your best features.
This article will review some great fashion advice enabling you to outfit your plus-size figure confidently. We've covered you, from picking the right undergarments to discovering outfits that complement your figure. 
Prepare to bid farewell to your baggy t-shirts and leggings and welcome a wardrobe that enhances your self-esteem. Let's get started!
Getting Started – Body Shape
As plus-size women, we should take pride in uniquely diverse bodies. Yet, knowing your body type can help you select the most figure-flattering options for clothing.
Identifying Your Body Shape
Recognizing your body shape is the initial step in developing an ideal wardrobe. The most common body types are as follows:
| | |
| --- | --- |
| Body Shape | Description |
| Apple | Refers to a body type where the upper body is larger than the lower body, with most of the weight carried around the midsection. |
| Pear | A pear-shaped figure has heavier hips and thighs and a smaller upper body. |
| Hourglass | The hourglass figure is curvy with narrow, wide-side hips and thighs. |
| Rectangle | Rectangle body shapes are straight up and down with little definition at the waist. |
Dressing for Your Body Shape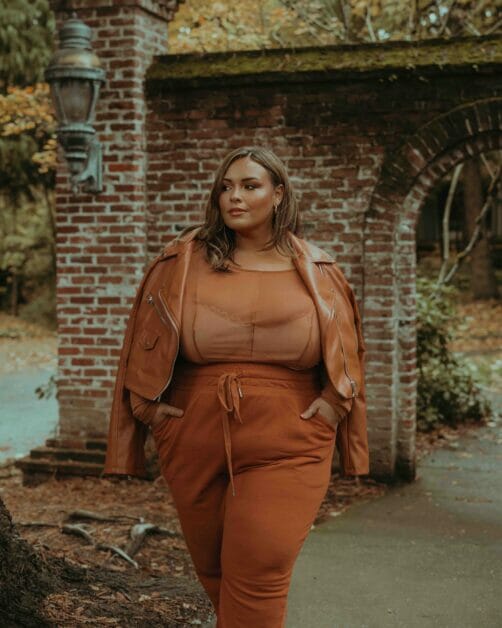 After determining your body type, you can shop for clothes that will make you look and feel your best.
Following are some general guidelines:
Apple Shape: When dressing for an apple shape, choose A-line skirts and off-the-shoulder tops to lengthen your legs and highlight your arms. You can also try v-neck tops and dresses. 
Pear Shape: If you have a pear-shaped body type, pick apparel that balances out your proportions, such as wide-leg pants and boatneck tops.
Hourglass Shape: Show off your curves with tight apparel and belts that draw attention to your waist if you have an hourglass figure.
Rectangle Shape: If your body is rectangular-shaped, wear ruched or draped clothes and belts at the waist to give the illusion of curves.
Remember that these are only suggestions; the most important thing is to dress in a way that makes you feel good about yourself.
Feel free to try several approaches until you find one that suits you best. 
Fit and Proportion
Finding the Right Fit
Choosing clothes that fit properly is among the many considerations while dressing as a plus-size woman. 
Hence, you must avoid purchasing clothing that will not enhance your body shape. Instead, look for outfits complimenting your features and fit you comfortably.
Try on several sizes to find the one that fits you best when shopping for clothes. Nonetheless, if something isn't a perfect fit right off the rack, you can always alter it.
Balancing Proportions
Keeping proportions balanced is another crucial aspect when dressing as a plus-size woman. You can achieve a balanced silhouette by emphasizing your finest features and minimizing your less confident parts.
For instance, wearing a cardigan or blazer will cover your arms, if you're self-conscious about them, while still making you look fashionable. 
If you have a larger bust, you may want to wear a V-neck top to draw attention upwards and elongate your neck. And as mentioned, if your body type is an apple, you might find that A-line skirts and dresses work best for you.
What matters most is achieving a well-rounded style that makes you feel beautiful as you are.
Accessories
To emphasize your best qualities, accessories can be used to provide a pop of color, texture, or sparkle. 
Note that accessories can make or break an outfit, but with a little guidance, you can learn to accessorize like an expert.
Choosing the Right Accessories
It's crucial to select accessories that are proportionate to your body size. For instance, a statement necklace or a pair of big earrings can add flair and elegance to your attire, whereas a tiny necklace or small studs may seem unappealing on a voluptuous frame.
Furthermore, accessories are a great means of incorporating color into an otherwise monochromatic outfit or toning down a too-bold look.
Accessorizing for Your Body Shape
Accessorizing for your body type aims to highlight your best assets. You can wear a belt or bold jewelry around your waist to draw attention to your hourglass figure. If your physique is more pear-shaped, accentuating your top half with a necklace or earrings will help.
Nevertheless, when accessorizing, the most important thing to remember is to enjoy and show off your style. As such, if you want to find your signature style, feel free to try on various pieces and combinations.
Color and Pattern
Color and pattern may make a huge difference if you're a plus-size woman trying to dress to feel confident.
Here are some pointers on selecting the perfect colors and combining various patterns to get a chic and attractive style.
Choosing the Right Colors
A wide range of effects, from slimming to energizing, can be achieved via the strategic use of color. 
Dark colors: Dark tones like black, navy, and dark green can give a slimming effect, especially when worn on the lower part of your body. 
Bright colors: Wearing bold, eye-catching colors like red, yellow, or orange can make a statement and highlight your best features.
Pastel colors: Soft and feminine tones can be achieved with pastels like pink, lavender, and light blue.
Neutrals: Colors like beige, gray, and white are neutral and may be combined with almost anything.
It's worth noting that there are no strict standards regarding color. Ultimately, wearing colors that make you happy and comfortable is most important. 
Mixing and Matching Patterns
Patterns are a great way to spice up your wardrobe with intrigue and texture, but they can be tricky to coordinate.
Below are some guidelines for mixing and matching patterns for your next outfit goal: 
Limit yourself to one or two patterns per outfit to prevent overwhelming your figure.
Patterns should be matched by either sharing a color palette or being of comparable size (for example, small polka dots and small stripes).
To avoid seeming too busy, wear a neutral or solid-colored garment with a patterned one.
Try experimenting with other patterns, such as stripes, flowers, and animal prints, until you figure out what suits you well. 
Have fun, and let your uniqueness shine when mixing and matching designs. Take risks and try new outfit combinations to explore your creativity and style. 
Tips for Dressing for Different Occasions
No one likes to feel like they have to settle for an outfit just because of their body type. Yet, plus-size women may feel like they have fewer options for dressing for different events.
Fret not, as with a few handy tips and tricks, you may look and feel put together and confident wherever you go.
With formal gatherings, casual outings, and everything in between, we'll cover various occasions and provide tips for what to wear to each one.
| | |
| --- | --- |
| Occasion | Tips |
| Office/work | Go for blazers and pants that fit you well, and wear them with a blouse or a traditional button-down shirt. Choose more neutral colors and stay away from loud patterns. Put on some statement jewelry and carry a structured handbag. |
| Casual weekend | Opt for a long evening gown or a stylish pantsuit for an elegant look. Opt for materials with a lovely drape, and stay away from those that are excessively tight or clingy. Level up your outfit with a purse and some fine jewelry. |
| Formal event | A dress or top with a V-neck or wrap design can help you look your finest. Wear these with high heels, wedges, statement earrings, or a necklace. Carry a clutch bag as an accessory. |
| Beach vacation | A dress or top with a V-neck or wrap design can help you look your finest. Wear these with high heels or wedges, statement earrings, or a necklace. Carry a clutch bag as an accessory. |
| Date night | Special Occasion |
| Get dolled up in a figure-hugging gown or a beautiful cocktail dress. Avoid hopeless clothing, and opt for fabrics that highlight your figures. Put on some dazzling jewelry and grab a purse to complete your look. | A dress or top with a V-neck or wrap design can help you look your finest. Wear these with a pair of high heels or wedges and statement earrings, or a necklace. Carry a clutch bag as an accessory. |
You can choose the appropriate attire that makes you look beautiful and feel at ease and confident by being aware of the event's dress code, venue, and overall mood.
With these tips in mind, you may dress for every occasion with comfort and style.
Wrapping Up
Accepting and celebrating your body type is a must while building your wardrobe. Love and appreciate your curves, and flaunt them with confidence.
Don't be scared to try out new looks and trends. Attempt some unexpected combinations; you never know what might look fantastic on you!
Try experimenting with various colors, prints, and accent pieces. Expressing oneself and having a good time is at the fashion world's heart. Wear what you like; don't worry about what others think. Remember, regardless of size and form, fashion is for everyone. 


Resources
Were Sorry This Was Not Helpful!
Let Us Improve This Article!
Please Tell Us How We Can Improve This Article.